TOWNSVILLE'S bid to become a hydrogen superpower has been strengthened by a third player signalling its intention to export the clean energy from the Port of Townsville.
Renewables player Edify Energy signed a memorandum of understanding with executives from the port and Assistant Minister for Hydrogen Development Lance McCallum on Wednesday. Local state MPs Les Walker and Aaron Harper were also present to witness the event.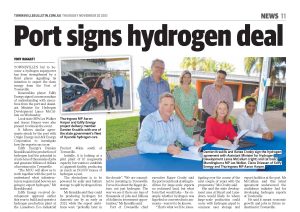 It follows similar agreements struck by the port with Origin Energy and Ark Energy Corporation to investigate how the exports can occur.
Edify Energy's Damien Krauklis said the production of hydrogen had the potential to create tens of thousands of jobs and generate billions of dollars of investment in Townsville. "The MOU will allow us to work together with the port to understand what infrastructure is required and how we are going to export hydrogen," Mr Krauklis said.
Edify Energy received development approval earlier this year to build and operate a hydrogen production plant at the Lansdown Eco-Industrial Precinct 46km south of Townsville. Initially, it is looking at a pilot plant of 10 megawatts capacity but wants to establish a 1-gigawatt facility, producing as much as 150,000 tonnes of hydrogen a year.
The electrolyser is to be powered by solar and battery storage to split hydrogen from water. Mr Krauklis said they could be producing hydrogen for domestic use by as early as 2023, while the export ambitions were "probably later in the decade". "We are committed to investing in Townsville. For us it is about the bigger picture, not just hydrogen. The way we see it there are tens of thousands of jobs and billions of dollars in investment opportunities," Mr Krauklis said.